Most of what follows should be disregarded as an out-of-practice writer's literary run-off.
First, an important announcement for rhyme and meter poets: there IS a word that rhymes with orange.
Blorenge
(Blorens in Welsh) is a mountain and/or hill in Blaenavon, Wales. The area is featured in Alexander Cordell's novel
Rape of the Fair Country
, and it is home to some talented traditional Morris dancers.
What is Morris dancing?
Next up, three new activities to try with your friends!
Uno)
Tejo
: a Columbian sport that combines backyard fun with alcohol and explosives.
Today, most players drink beer, but real diehards drink the customary beverage
chicha
.
Digression:
Chicha is to Latin America what sangria is to Spain. Want to win a Latin man's heart? Make good chicha. This one takes 2-5 days.
1 c. dark brown sugar, packed
6 oz. maiz jora (available in Latin American, Peruvian and Ecuadorian groceries)
3 orange leaves, fresh or dried (dried are available in Mexican groceries)
Peel of 1 pineapple, 1/2 inch thick, scrubbed clean
1 large plastic or glass jar or container
1) In a large pot, over medium heat, boil the water, brown sugar, cinnamon, cloves and allspice. Stir occasionally until the sugar dissolves.
2) Add the maiz jora and simmer on low for 30 min.
3) Remove from heat, add orange leaves, cover and allow to cool to lukewarm.
4) Transfer to large plastic or glass container.
5) Twist the pineapple peel over the container to extract the juices (some cooks add the whole peel to aid fermentation).
6) Cover with towel and store someplace dark and warm for 2-5 days, until a thick layer of foam appears on the surface (Remember! The longer it ferments, the more drunk you'll get).
7) Line a strainer with cheesecloth and pour the chica through it into a serving container (You can use the leftover maiz jora from the strainer to make a 2nd batch).
8) Stir in vanilla and sugar to taste.
9) Serve chilled.
a dó)
Shillelaghs
A shillelagh (pronounced shi-lay-lee, or, if you have an Irish accent, sha-LAY-ley) is a bad ass Irish war club made of blackthorn. They typically have a large knob at one end (to inflict blunt force trauma) and a leather wrist loop at the other (for a better grip while inflicting blunt force trauma). Famous shillelagh carriers include the Celtics' mascot and Monk from Gangs of New York.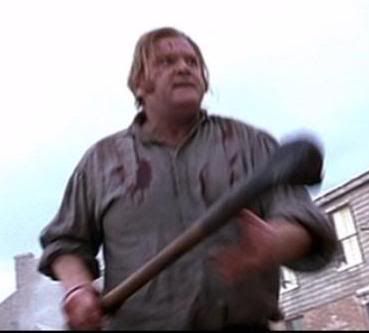 Buy shillelaghs on the internet!
3) Learn how to fold a fitted sheet
I know. This one really sucks, but I've been still too long and I feel an ADHD temper tantrum lurking in the wings like an eager understudy.
From now on I'll close each entry with a random and unexplained photo from my everyday life.
Mahalo.